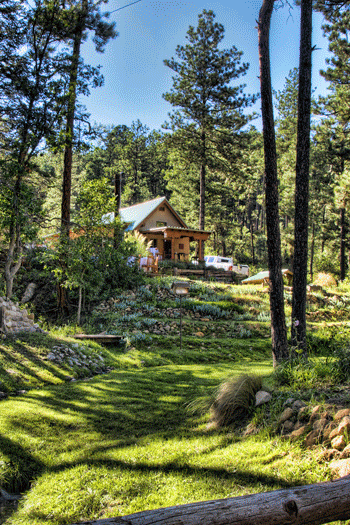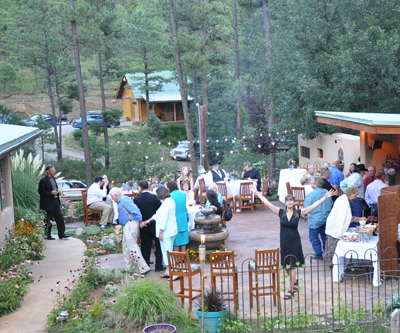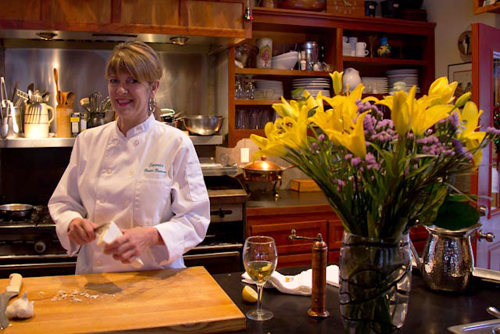 Ruidoso, New Mexico, is a beautiful resort village that has been the favorite mountain retreat of savvy vacationers and local residents for decades. Savories, the creation of Certified Personal Chef Bonnie Branson, is one of Ruidoso's most exceptional treasures. Chef Bonnie established her business in 2001 with one goal in mind: to provide people with meals that are both delicious and nutritious.

Savories has since evolved into a multi-faceted business that now specializes in a range of services that include preparing and serving dinner parties in your home, catered vacations, special event catering, custom meal service, and regularly-scheduled cooking classes.
She has baked and decorated hundreds of wedding cakes. She has catered hundreds of weddings and other special events. No event is too small. For parties under 60 guests one can enjoy the peace and calming environment of her location on Brady Canyon that is nestled amongst tall ponderosa pines. Larger parties gather at other superb locations around the area. Chef Bonnie will organize all aspects of your event to make it an experience you will long remember. Please peruse this website to discover all the exceptional services Savories offers. Bonnie Branson can be contacted at --
SAVORIES CULINARY EXPERIENCE
575.257.0204
EMAIL: chef@savories.net
MAY 21ST, 2013
Savories will be suspending all culinary services for the upcoming season. I've been re-diagnosed with a "double hit" lymphoma and will be undergoing treatment to fight this disease. While looking forward to another great season of Culinary Experience, my life changed in a heartbeat. I'll try and keep you posted with my progress and will look forward to serving you all again in the future.

Michael J's Restaurant is hosting a Benefit Wine Dinner to help Bonnie Branson of Savories Culinary Experience get through the last few months of her treatment for double-hit lymphoma. She will be receiving a stem cell transplant from her brother in a couple of weeks and will then go through the process of regeneration. The Wine Dinner is Monday, September 30th starting at 5 pm. Seating is limited, reservations are required.
Please call 257-9559 or 937-6043 to reserve your table.
If you can't attend the dinner,
donations can be sent to
Bonnie Branson, c/o City Bank of New Mexico,
1096 Mechem Drive, Ruidoso, NM 88345.
We thank all the generous friends who havehelped Bonnie and so many others in need.