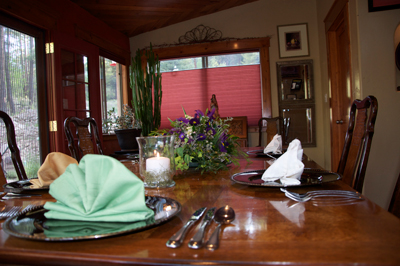 Dinner Parties
You Invite the Guests, We'll Do the Rest!
Savories not only prepares and serves that special meal for your very special dinner party, but Chef Bonnie looks over every detail to guarantee the food, the mood, and the entire ambiance is one that will provide a relaxed and upbeat atmosphere that spells success. From cocktail hour through dessert, this won't simply be a dinner but an event your guests will remember.

No matter what the occasion, a company dinner or private family reunion, Bonnie will work with you from start to finish. She will help you choose the menu whether it be a formally served dinner, family-style or buffet. Preparation is always of the highest quality in taste and appearance.

The Savories Culinary Studio: If you are looking for a one-of-a-kind culinary experience, you must visit the Savories Culinary Studio. This pristine cottage is nestled into the tall pines and is an unforgettable setting for an intimate and exclusive gathering. Watch the Savories chefs prepare your meal in the studio kitchen or enjoy cocktails and hors d'oeuvres on the outdoor patio. This unique venue is perfect for small weddings and is unlike any other in the area.

Savories prides itself on attention to the smallest detail, from initial planning, to the event itself, to clean-up. You choose the venue and invite the guests....Bonnie and her amazing staff will do the rest!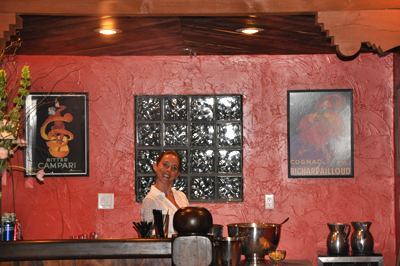 SAVORIES CULINARY EXPERIENCE
575.257.0204
EMAIL: chef@savories.net